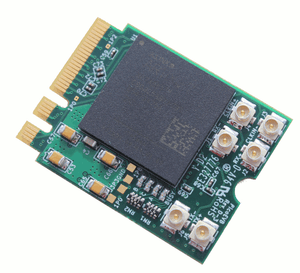 The Artix development kit that fits in a laptop or PC
PicoEVB is a complete FPGA development kit in M.2 form factor.

Built-in JTAG cable
Once PicoEVB is installed in the laptop, you're done! No external cables or connections are needed. Connect to PicoEVB with Xilinx's free Vivado IDE and get going.
Note: Requires OS-specific cable driver, which is provided.
User Controlled LEDs
PicoEVB has 3 on-board LEDs which can be controlled by the FPGA. Also, PicoEVB can control the digital LED signals on the M.2 motherboard.
Analog and Digital I/O
The 6 pin connector pins out 4 multipurpose I/O from the FPGA (analog/digital/lvds) and 3.3V power and ground.
4 more digital I/O are directly connected to the LED & Disable signals on the M.2 connector.
The I/O cable is now included at no cost.
High-Speed Digital I/O
PicoEVB has connectors for one MGT. These are pinned out similar to the AC701- each signal directly to a RF connector, without a balun. Excellent for board-board communication within a system.
Convenient Design
Everything necessary to program and debug the FPGA is all on board. And if you are interested in PCIe designs, this is the least expensive kit available.
Works with Windows or Linux
Xilinx's Vivado IDE works on Windows or Linux. Furthermore, Xilinx provides a free PCIe host side driver for Windows and Linux.